Description
NEVO-SKY JET LINE
It is dedicated to engines equipped with indirect fuel injection. (Ed The line is based on a new platform SKY dedicated to modern engines. ECU NEVO-SKY JET ECO support up to 4 cyl. This means a great convenience for assemblers, which will be able to use one software based on the SKY platform for all controllers offered by the NEVO-SKYfamily, including DIRECT controllers.
ECU in RL VERSION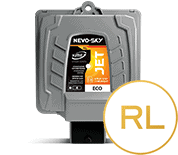 Some cars (e.g. Mitsubishi or cars for the American market) require the use of a dedicated RL version of the gas controller. It is the most universal version of the controller – it can be used in any car. RL version available on request.
AUTO-SETUP in 5 steps
To facilitate assembly and calibration, the NEVO-SKY family ECUs have the AUTO-SETUP function, which in a simple and quick way helps in setting up most cars.
EXPERT SYSTEM SKY
The NEVO-SKY family, to which the JET product line belongs, works with the NEVO-SKY software, which has been equipped with an advanced SKY EXPERT SYSTEM for automatic detection of irregularities in the settings and operation of the gas system. This system generates hints / warnings and suggests solutions. Each time a warning occurs, an audible signal is triggered so as not to miss the moment when the information is given. With each release of the EXPERT SYSTEM SKY software, the knowledge base is expanded to assist in the calibration of cars.