Description
LINIA NEVO-SKY JET
Dedykowana jest do jednostek napędowych, wyposażonych w pośredni wtrysk paliwa. Linia oparta jest na nowej platformie SKY dedykowanej do nowoczesnych jednostek napędowych. Linia sterowników NEVO-SKY JET obsługuje do 8 cyl. Oznacza to duże ułatwienie dla zakładów montujących, które będą mogły korzystać z jednego oprogramowania opartego na platformie SKY do wszystkich sterowników, które oferuje rodzina NEVO-SKY, zaliczamy do niej również sterowniki DIRECT.
WERSJA RL STEROWNIKÓW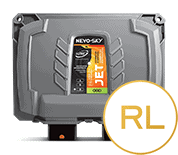 Niektóre auta (np. Mitsubishi, czy auta na rynek amerykański) wymagają użycia dedykowanej wersji RL sterownika gazowego. Jest to najbardziej uniwersalna wersja sterownika – można ja użyć w każdym aucie. Wersja RL dostępna na zamówienie.
AUTO-SETUP w 5 krokach
Dla ułatwienia montażu i kalibracji sterowniki z rodziny NEVO-SKY posiadają funkcje AUTO-SETUP, która w prosty i szybki sposób pomaga w ustawieniu większości samochodów.
SYSTEM EKSPERCKI SKY
Rodzina NEVO-SKY, do której należny linia produktów JET współpracuje z oprogramowaniem NEVO-SKY, które zostało wyposażone w zaawansowany SYSTEM EKSPERCKI SKY służący do automatycznego wykrywania nieprawidłowości w ustawieniach i pracy systemu gazowego. System ten generuje podpowiedzi/ostrzeżenia, sugeruje rozwiązania. Każdorazowe wystąpienie ostrzeżenia powoduje uruchomienie sygnalizacji dźwiękowej, tak by nie przeoczyć momentu pojawienia się udzielanej wskazówki. Z każdym wydaniem programu SYSTEM EKSPERCKI SKY ma rozszerzana bazę wiedzy, aby pomagać w kalibracji aut.