In order to obtain the appropriate degree of credibility with our clients and effective quality management, in April 2002, a documented quality management system was implemented, compliant with the requirements of international ISO 9000 series standards.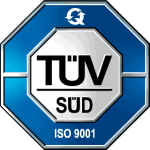 In 2003, after an audit by the certification body TÜV Management Service GmbH, KME Sp. z o.o., obtained a quality system certificate in the field of "Design, production and sale of electronic devices, cable harnesses and mechanical devices, in particular for automotive gas supply control systems" confirming compliance with the requirements of ISO 9001,
In 2017, we adjusted the existing Quality Management System to the requirements of the new ISO 9001: 2015 standard.
Striving to constantly meet the expectations and needs of our clients, we systematically invest in the company's technical infrastructure and the development of technological processes, thanks to which we achieve high quality, technical and organizational standards.
Innovation and quality of the offered products, adjusting the offer to the expectations of customers and their specific requirements, as well as high standards of customer service are the strengths of our company.