This time we present autogas installations in the LEXUS RX450H hybrid car. It is the second generation of this model to be equipped with a naturally aspirated 3.5L V6 indirect injection engine. Additionally, the LEXUS 450H has two electric motors. This gives a maximum of 299 HP of power.
Autogas installation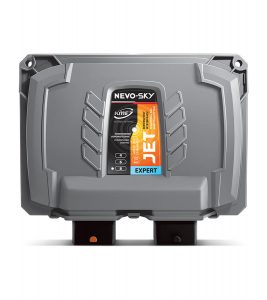 The combustion engine used in the LEXUS RX450H is ideal for the installation of an LPG system. Indirect injection is a technology that the KME NEVO-SKY JET line of controllers is doing very well. Drivers from this line are available in 4, 6 and even 8 cylinder versions. They have advanced mechanisms, which allows for precise regulation of autogas installations. The JET line of controllers also has no problems with the Start & Stop system operation and, as in the case of the LEXUS RX450H, with hybrid cars. The only inconvenience may be frequent opening of the multi-valve near the tank, which can be heard in the cabin. This is for security and legal reasons. Every time the car turns off the combustion engine, the controller must close the multivalve. This means that when the combustion engine is restarted, the multivalve will be open again. However, this does not affect gasoline consumption, because the NEVO-SKY controllers have advanced mechanisms that allow you to quickly switch to autogas.
LPG in a hybrid?
Is autogas installation in a hybrid system profitable? Due to the high economy of hybrid cars, such questions may arise frequently. In practice, savings are already visible in city driving, where mainly electric motors work. However, the greatest advantages of the autogas installation can be seen on the highway. Then the internal combustion engine is running almost all the time.
The composition of the installation in the LEXUS RX450H car: